SHOULDER PAIN
Shoulder problems are very common because we use it more than any other joint in the body. Even if your mobility is restricted, chances are your shoulders are working. It is indeed a complicated mechanism. As a ball and socket joint, the shoulder has a lot of rotational ability, with that comes all the different muscles to move it to different points within the rotation. Establishing the specific muscles involved for an individual injury just might take an expert. Some shoulder pain patterns overlap each other, disguising which one is responsible. This is where our Neuromuscular training comes in. We help identify the injured muscle by the "tonus" or tightness of the muscle, coupled by the tenderness and lack of range of motion.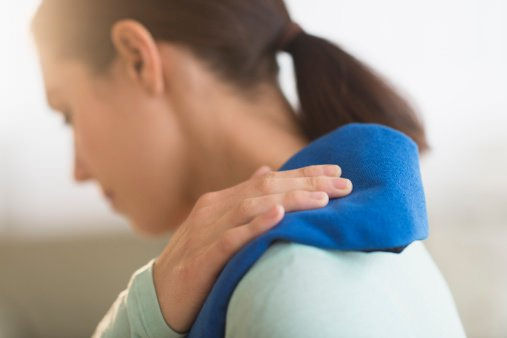 FRONT SHOULDER PAIN
Their are at least three muscles that can be responsible for this pain. Two are right there in the front, and the most common one is actually on the shoulder blade called the infraspinatus. This is a classic 'trigger' point, and one of the most notorious.
REAR SHOULDER PAIN
The "pulling" muscles of our shoulders work closely together to bring the arm back and to rotate. This where most of the rotator cuff muscles are. Many tendon attach and cross over each other here. If one gets injured it usually affects the others.
The large muscle on top of our shoulder that joins the neck is the trapezius muscle. We all like that one massaged. Most of use "hold our stress" there. We 'turtle ' by raising our shoulders for no good reason at all. LET GO! or...you can hold heavy weights in each hand and relax for a minute. Feel the stretch. Rinse, repeat 2 or 3 times. It can really help many muscle problems from neck to shoulder to elbow.